from the Huffpost Brasil by David Freeman
Esqueça aquela escadinha estática que você aprendeu na aula de biologia. O DNA está em movimento o tempo todo e fica mudando de forma.
Você não precisa ser biólogo molecular para saber que o ácido desoxirribonucleico (DNA) tem uma estrutura de "dupla hélice". Mas, se você acha que a molécula da vida não é nada além de "duas cadeias helicoidais enroladas em um mesmo eixo", como descreveram Watson e Crick em 1953, pense de novo.
Os cientistas sabem agora que as moléculas de DNA se enrolam em si mesmas, formando superespirais bem apertadas, e novas pesquisas sobre os "minicírculos" do DNA realizadas por pesquisadores americanos e europeus mostram que o DNA está em movimento constante, tomando várias formas diferentes.
"Alguns dos círculos tinham cantos agudos, outros formavam um oito, outros pareciam algemas, raquetes ou até mesmo agulhas", disse em comunicado Rossitza N. Irobalieva, ex-pesquisadora do Baylor College of Medicine e coautora do novo estudo.
"Alguns pareciam varetas, de tão enrolados."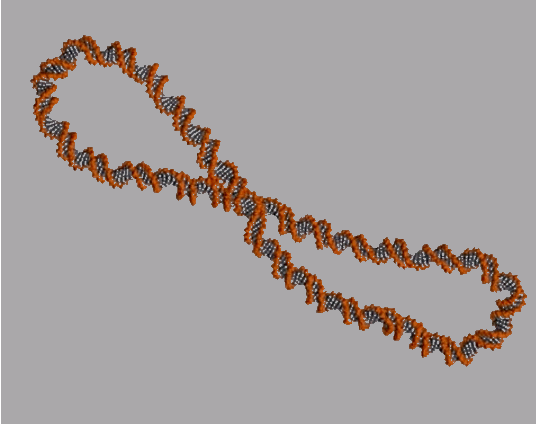 A descoberta é mais que simplesmente uma curiosidade científica. Os pesquisadores afirmam que ela pode levar a remédios melhores, incluindo drogas para tratar câncer e infecções bacterianas.
"Como algumas terapias anticâncer se conectam com o próprio DNA, e alguns antibióticos alvejam enzimas que reconhecem especificamente os DNA superenrolados das bactérias, esperamos que a pesquisa ajude a melhorar o design dos remédios desde o início do processo", disse Sarah A. Harris, física teórica da Universidade de Leeds, Inglaterra, e co-autora do estudo.
Como os pesquisadores chegaram a essa nova imagem do DNA? Primeiro, os cientistas do Baylor College of Medicine fizeram pequenos círculos de DNA e usaram uma técnica de microscópio conhecida como tomografia de crioeletrônica para criar imagens detalhadas desses círculos.
Então, os cientistas da Universidade de Leeds usaram um supercomputador para simular como as moléculas se moviam e que forma tomavam.
O estudo, intitulado The Structural Diversity of Supercoiled DNA (a diversidade estrutural das super espirais de DNA, em tradução livre), foi publicado na revista Nature, em 12 de outubro de 2015.